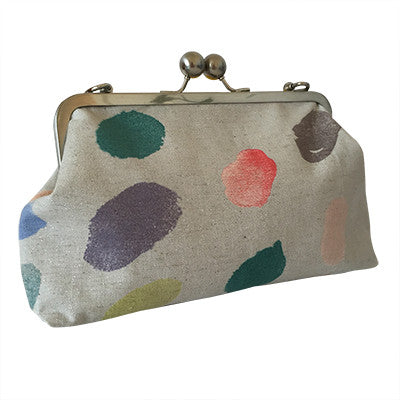 Big Bobble Shoulder Purse - Colour Spots
By Craft Me Up
Or 6 payments from $10.16
What's this?
Sorry, this product is sold out!
Fresh and colourful, this purse is made from a Japanese fabric with a slightly metallic background with colourful spots. 
The purse frame comes with strap loops which you can clip a leather strap on to turn this clutch into a shoulder bag, or alternatively you can unclip the leather strap and carry it as a hand clutch. Great for day and night!
The inside is fully lined with a patterned fabric to offset the unique exterior print. 
This shoulder purse has plenty of space to fit your cards, money, keys and even an ipod or mobile phone. 
Leather strap included. Please note the colour of the spots may not be identical to the pictures shown but we will try to cut from the same area of the fabric to match the pictures.
Measurements
Height:    150mm
Length:   220mm
If you want to know more about this product, get in touch here.
Related products